Where Family and Friends make
We invite you to come away with us and experience an unmatched holiday with us here in South Texas. Be transported away from your daily grind to an authentic horse ranch here at Lonesome Wind Ranch. Let us give you memories of a lifetime.
Ranch House
Pick any of our hotel rooms to experience the delightful decor, complemented with modern amenities for a comfortable stay.
for a beautiful ranch getaway in South Texas
Lonesome Wind Ranch is one of the most beautiful and acclaimed retreat spots in all of South Texas – the perfect place to host your special event or gathering. The landscapes surrounding this picturesque ranch will leave you with a memory of a lifetime. Seen from all perspectives you will find horses, sheep and cattle grazing in the nearby pastures. This unique and incredible ranch boasts of an individual style that is likened to the spectacular places found in "Town and Country". Combining unmatched hospitality with the natural habitat and equine activities, one is sure to find themselves in an unforgettable atmosphere that adds unique touch to every indoor & outdoor affair.
Over the years, Lonesome Wind Ranch has cultivated its unique setting with the owners passion and love for the Texas land. Now considered one of the area's most preferred, sophisticated outdoor wedding & event venue & family retreat location. Whether you are looking for an intimate gathering or a larger gathering of 100-200ppl, Lonesome Wind Ranch can accommodate and customize your specific event or holiday to your particular needs & desires.
Popular sites include the "Cypress Lake" home to various fish: Koi, Bass, Perch, Catfish, ducks, and various species of trees & bushes (including the Weeping Willow, Cypress and Bamboo & Cats tail). There is a picturesque island that serves as a ceremony site for a bride & groom or a superb spot for the fishing enthusiast. Close by you will find a deck for sunbathing, diving, or casting a pole and a nearby BBQ firepit to serve your friends and family a delicious meal or create a bonfire to accompany your stargazing in the evening.
Lonesome Wind Ranch represents a glimpse of authentic ranch life with all the amenities of a resort like setting. For those of you looking to spend their special night or week(end) with friends and family, look no further, Lonesome Wind Ranch will surpass your greatest expectations.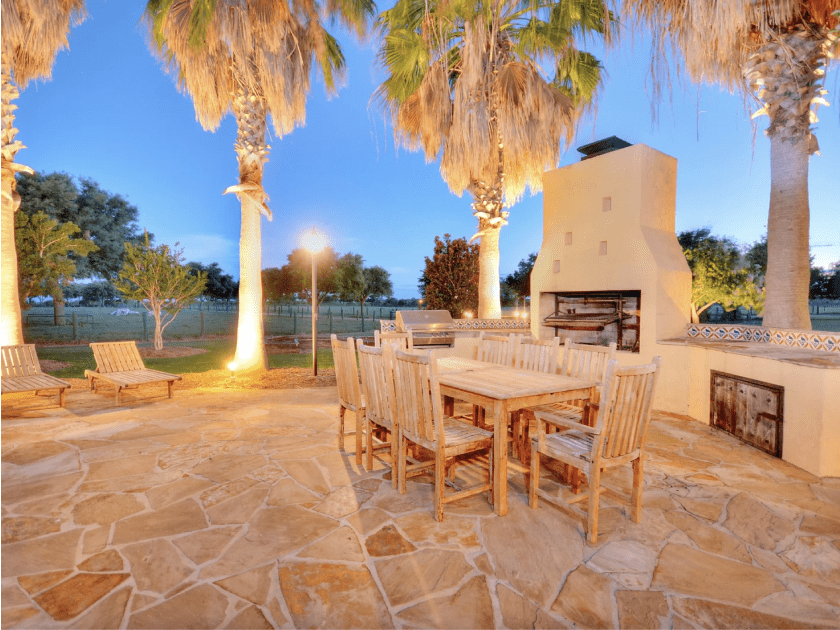 Where Elegance meets rustic: Estate House, Ranchette, Barn Loft & Tumbleweed Cabin. Clean & Comfortable
Discover the true meaning of relaxation and peace during your stay at Lonesome Wind Ranch in our fully furnished, individually & uniquely decorated spaces. These collections of accommodations are designed with their own unique views, furnishings, and style. Our rooms are fully stocked with:
Towels, bath soaps, shampoo & conditioner.
Heat for winter and air conditioning for summer.
Firepits and/or charcoal grill.
Fully stocked kitchen: cooking utensils, dishes, coffee makers, pot/pans, oven and cooktops.