 Polo at Lonesome Wind Ranch
POLO is a dynamic sport with a glamorous past and an exciting future. Mike Azzaro, legendary 10-goal player, also owner & curator of Lonesome Wind Ranch, decided that following his retirement from a professional and successful career he wanted to grow and promote the sport of POLO. With his wife and business partner, Amy, of 31 years, their three children, Allie, Harrison (3-goaler), Hunter (1-goaler) and his son-in-law, Santiago Torres (7-goaler), their goal & vision is to not only make an equine center to educate new and experienced players about the rules of this incredible sport, but to also serve the community as a cultural & community attraction and venue.
Once America's highest-rated player, Mike Azzaro, is a dynamic teacher and enthusiast of the sport. At Lonesome Wind Ranch you will find Mike and Amy's family sharing in the vision and seasonal program they have created together. They continually profess the blessing of family & friendship, and they work hard together to make their dreams and vision provide a unique and memorable experience at Lonesome Wind Ranch that you can share with others.
EQUINE RETREAT & POLO VENUE
Clinics are offered in the Spring and Fall exclusively at Lonesome Wind Ranch
The American polo legend Mike Azzaro has developed his ranch polo center as a way to share his knowledge and passion for the sport of polo by teaching horsemanship, strategy, and technique while being on the field playing polo with participants.
Mike Azzaro's Polo Intensives are typically 3-7 days and can extend to a 2-week-long program that is personally supervised by Mike Azzaro. Each Clinic is customized for the participant(s) and is designed to accommodate any level of player from a beginner to a medium/high goal player.
ORDER OF EVENTS & WEEKEND SCHEDULE
FRIDAY:

-Check-In to accommodations
-Evening Sunset Ride followed by a Welcome dinner
SATURDAY:

-AM ride: assessment & hands-on instruction with technical form
-Afternoon swimming/fishing at "Cypress Lake"
-PM ride with an emphasis on riding skills: "To play well, one must 1st learn to ride well."
-Dinner by the pool
SUNDAY:

–Chukkers/scrimmage
–Farewell Brunch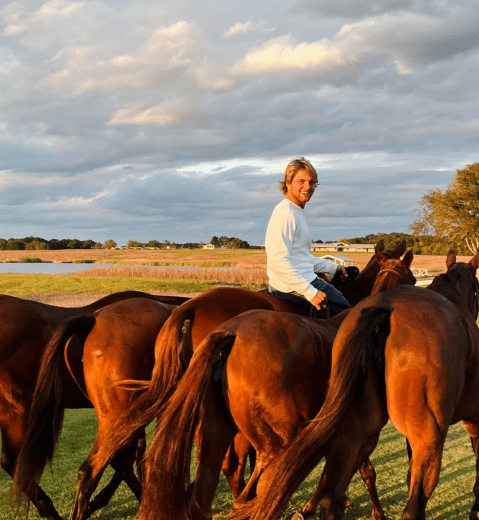 Polo lessons with Mike Azzaro (2 sessions per day)
Polo clinics and scrimmage chukkers
Fishing and Swimming at Cypress Lake
Poolside lounging
AMERICAN LEGEND / TRAINER / POLO HALL OF FAMER
Mike Azzaro, was born on January 18th, 1966. He was born in Chicago and as a child played polo for fun on the weekends at his family farm outside of Chicago. His mother and father soon realized his athletic prowess and affinity for horses and moved to San Antonio where the epicenter of POLO was located at the Retama polo center. Mike soon was discovered and became an American professional polo player at the young age of 15. Mike held the sport's highest handicap, 10 goals, for 14 years. He was awarded The Polo Magazine's Polo Excellence Award for "young player of the year" in 1987 & 1990, and the award for "player of the year" in 1994. Known for his aggressive forward style of play, he has always been a crowd favorite with exceptional riding equitation. With Memo Gracida, he formed one of the most powerful duos in Polo. Mike was awarded the highest handicap of 10-goals in 1994 after having reached the finals of every high-goal tournament in the Palm Beach season as well as winning the U.S. Open in California in 1996. Mike's competitive nature gave him the desire to play and win
various cup titles in the USA such as US Open, Gold Cup, Silver Cup, Westchester Cup, Camacho Cup, and other Cup titles abroad in the UK such as Queens Cup, Warickshire Cup & Gold Cup. However, the greatest recognition is the standing ovation he received while playing the Palermo Open in Buenos Aires, Argentina with the La Mariana team in 1995. Mike is a phenomenon in the sport of polo. USA's greatest American to have ever played the game!